High-Stakes Leadership in Turbulent Times
Reading This Book is
Not Optional

for Today's Leaders
And the reason is simple. Organizational crisis is "the new normal." Crisis leadership — what Mike Barger calls "high-stakes leadership — is difficult and rare. But, he says, "It can be done well, and it can be prepared for, by those who are willing and able."
We simply cannot afford to wait and learn from our experience in the next major crisis. THE TIME TO PREPARE IS NOW. Reading High-Stakes Leadership in Turbulent Times is a powerful first step in being ready for the inevitable.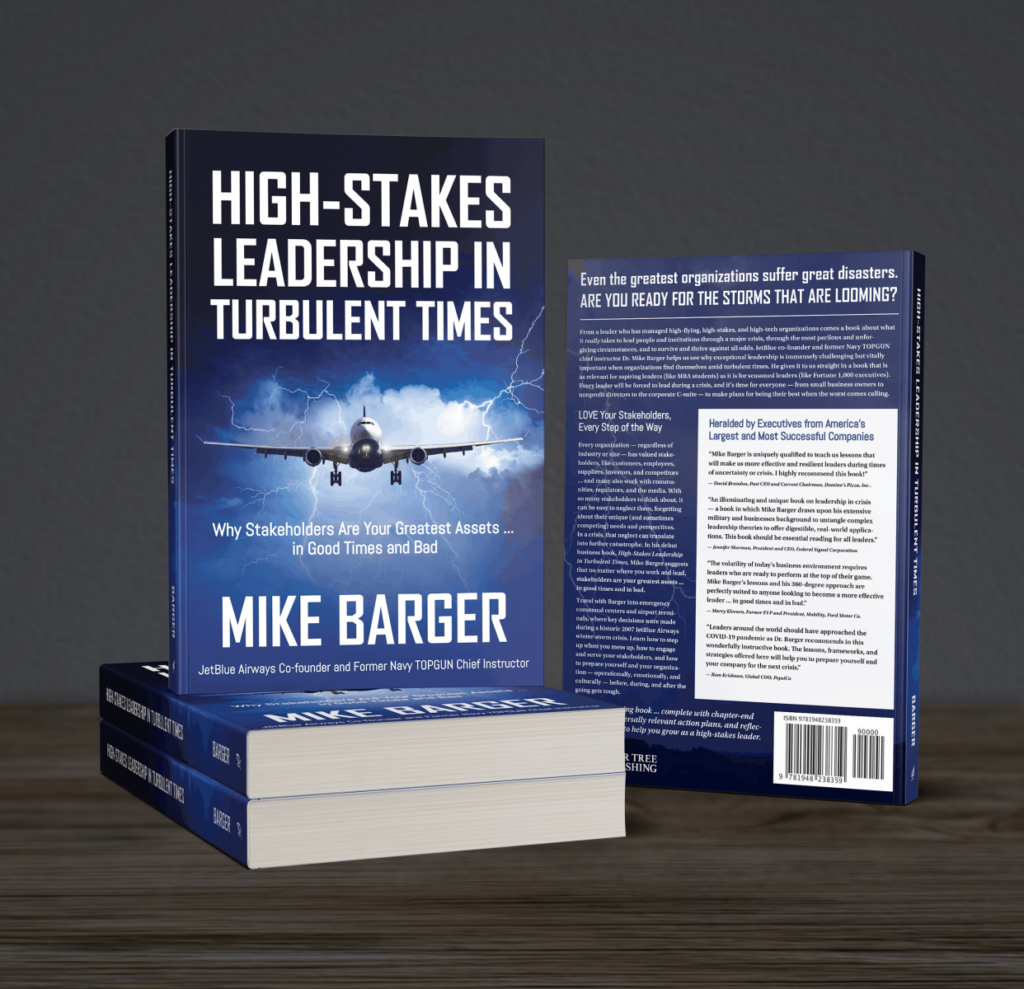 A Seminal Work for 21st Century Leaders
You probably don't have time to read another business book. But ask yourself, Can you afford not to read this one?
From a leader who has managed high-flying, high-stakes, and high-tech organizations comes a book about what it really takes to lead people and institutions through a major crisis, through the most perilous and unforgiving circumstances, and to survive and thrive against all odds. JetBlue co-founder and former Navy TOPGUN chief instructor Dr. Mike Barger helps us see why exceptional leadership is immensely challenging by vitally important when organizations find themselves amid turbulent times. He gives it to us straight in a book that is as relevant for aspiring leaders (like MBA students) as it is for seasoned leaders (like Fortune 1,000 executives). Every leader will be forced to lead during a crisis, and it's time for everyone — from small business owners to nonprofit directors to the corporate C-suite — to make plans for being their best when the worst comes calling.
Travel with Barger into emergency command centers and airport terminals, where key decisions were made during a historic 2007 JetBlue Airways winter-storm crisis. Learn how to step up when you mess up, how to engage and serve your stakeholders, and how to prepare yourself and your organization — operationally, emotionally, and culturally — before, during, and after a crisis.
Have you finished the book and want to take your learning further? The book references some companion tools to support you on your continued path of learning. Access crisis-response checklists from leading companies, see "guiding principles"  in action, and get your hands on a tabletop crisis-preparedness exercise you can complete at your organization.
Take the Learning Off the Page and into the Lives of Your Team and Your Organization
There is no "I" in team, and that same motto holds true in times of organizational crisis! A high-functioning (and high-stakes) team is prepped and ready to tackle and crisis (expected or unforeseen) should it occur. Is your team ready? Are you? Consider using this book as a discussion tool to help your team prepare for the inevitable. To help facilitate thought-provoking and insightful discussion, download the High-Stakes Leadership in Turbulent Times Book Discussion Guide.